This UnConference is a place where trainers and space holders can meet in person to inspire and be inspired.
At Possibility Management UnConference 2023 we will focus on sharing experiences, exchanging new discoveries and building bridges. We will create a space to explore the potential of our collective wisdom and share tools and insights for creating powerful stories.
We will also experience facilitated conversations and interactive hours to deepen our understanding of Possibility Management together and learn new ways to embody the context in service of our personal purpose.
The event will be based on a sliding scale of €150-450 plus meals and accommodation.
We look forward to having you with us on this journey to connect emerging spaces. See you in August!
The Possibility Management UnConference Team (Katharina, Patrizia, Lisa, Michael)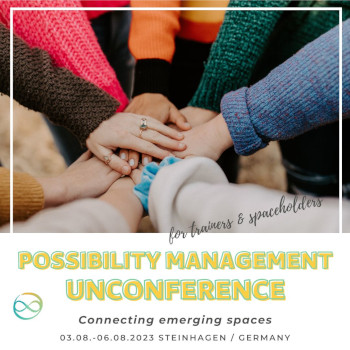 What is the purpose of the UnConference?
As a game world gets bigger and bigger, it can easily "break up" into smaller units. Possibility Management as a game world has grown extremely in recent years - and to all corners of the planet. People have come together in virtual villages and physical bridge houses to do research together. New formats have emerged, and many new discoveries have been made.
Recently, there has been a growing wish for a deeper exchange and for building bridges so that the different sub-worlds remain connected. And for this, we, a group of adventurous Possibility Management trainers, would like to provide a space - a space where we can meet - and not just virtually, but for real - to touch, so to speak.
What purposes should this space serve? One purpose is certainly that we - this growing community of PM trainers and space holders - can make contact on a personal level or get to know each other in the first place. Another intention is to share our new discoveries and insights - new maps, new exercises, new formats. And last but not least, another intention is to make available what is needed right now, without us already knowing what it is.
We thought about which format would be best suited for this purpose. Our idea: an UnConference!
An UnConference is a flexible and co-creative process in which special meeting technologies are used so that all participants can engage actively, committedly and joyfully. Learning, sharing and exchanging ideas take place dynamically, participatively and at eye level. Complex problems can be explored, relationships fostered, and new forms of collaboration created. Through the self-organising structure, the group actively contributes to the creation of the programme, supported by committed space holders. We create a space for emergence - so that exactly what wants and needs to emerge in terms of evolution can emerge. We support each other in our development. This means pure joy at a four-day research festival with a high fun factor.
We simply provide what is needed:
research spaces indoors and outdoors in nature, big group and small groups, a "process space" for personal processes, spaces in which we can …
explore topics, investigate questions
go through transformational processes
network, foster exchange, forge alliances
develop and present projects and find fellow campaigners
learn from each other, exchange experiences
relax and celebrate,
and much more.
Logistics
Date: 03.-06.08.2023
Venue: Möglichkeitenraum, Petersberg 3, 33803 Steinhagen, Germany
Travel: possible by car or train (train station Steinhagen).
Costs: participation fee for the UnConference: Sliding Scale 150-450 € plus room and board
Accomodation: at the venue in shared rooms (40€ p. P/N) or in your own tent in the garden or in your own camper (20 € p P/N) (number of places limited - first come first serve).
Apart from that there is a hotel near the venue: Hotel Rehkit (https://www.hotel-rehkitz.de)
Costs for board approx. 220 €.